Lish is a nail brand you can trust to deliver exceptional results. Our aim is always to provide a quality Australian product that meets all Australian standards.
The quality of Lish stands out and all products are manufactured to strict specifications by quality tested suppliers.
Lish provides ongoing inspiration for the Nail Technicians of Australia, by bringing you a cutting edge nail range that has been carefully designed and chosen to meet the needs and requirements of technicians, salons and clients.
Australia has some of the world's most talented and innovative Nail Technicians and we are proud of this fact.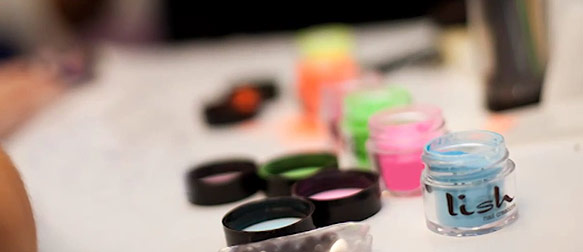 As a client, be sure to always support salons and technicians that have strict hygiene standards, quality products and excellent skills. Nails are an art and the ongoing training and dedication that Nail Technicians put in, will ensure you are always receiving the safest service possible.
Qualified Nail Technicians are professionals that will ask you questions to ensure you are getting the most suitable nail option for YOU. They fully understand the need to care for the quality of the nail plate, they have in-depth knowledge of the structure of the nail and also correct procedures required to keep you safe. Every client has different nail requirements and they have different likes and dislikes, so please remember it takes time for a Nail Technician to learn exactly what you need so they can deliver exactly what you want. A Nail Technician specialises in nails and is able to answer your questions.
Lish Nail Technicians always aim to educate clients about their service because not all enhancements are created equal and we want the best for you and your nails. It is for this reason we have some important information we want to share with you that will help you to get the most out of your nails.
Artificial nails are like wearing a piece of jewellery, they can enhance your hands however they still need to be treated with care. Be realistic about the way in which you treat your nails. They are definitely stronger but they should not be used as tools. Open soft drink cans with a coin or keys. Use the side of your hand to open a car door or make your bed.
For all nail systems we recommend you wear gloves when gardening or using harsh chemicals.
Regular refills (every 2-3 weeks) are absolutely essential to maintain the strength and the overall look of your nails. As your natural nail grows, so does the enhancement that has been placed on top. After a certain length of time your nails will become top heavy which puts unnecessary strain on the stress point of the nail. Regular refills rebalance the nails and also allow your technician to ensure they look fantastic all the time. So remember to re-book your appointment before you leave today.
Do not chew or pick at your nails. The saliva in your mouth can cause the adhesive to break down and cause lifting and separation. Picking at nails and prying the enhancement off will damage the nail plate.
Life can get busy for us all, however, please be mindful that when we make a nail appointment for you we allocate that time just for you, ensuring you receive our complete attention. For this reason, please allow 24 hrs notice if you need to cancel or change an appointment, so that we can make the appointment time available to someone else. Thank you for your understanding in this matter.
Home-care requirements: To remove polish we recommend the use of Lish acetone-free nail polish remover. We also recommend daily use of Lish Cuticle Oil and Lish Hand Cream, and a handy file should you need to smooth an edge of your nails.
We trust you will enjoy your experience.